Digital Gift Agreements for Every Level of Giving
Book Every Pledge. Beat Every Goal.
Givzey's standalone Gift Documentation Platform empowers fundraisers to easily and immediately formalize and book pledges of all sizes.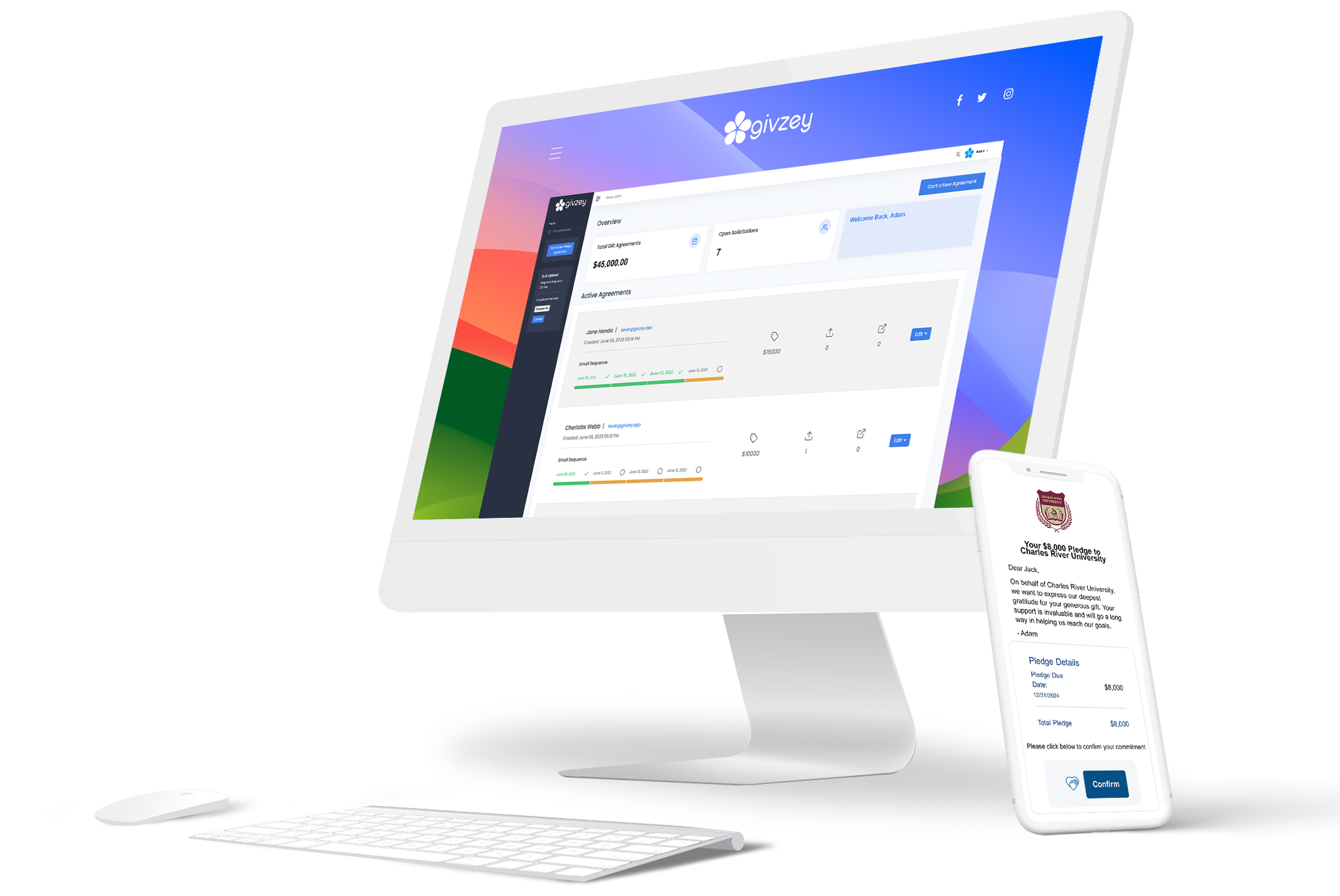 Why Multi-Year Giving Matters
Mid-level giving fuels fundraising growth. But fundraisers responsible for one-to-one donor solicitations are bogged down by processes that only allow them to focus on today's giving revenue. Multi-year giving opens the doors for bookable revenue and donor retention today and the major gift pipeline for tomorrow.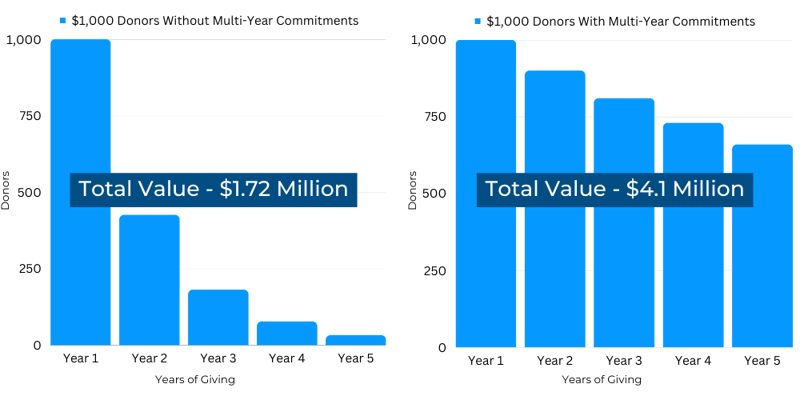 "Exposing mid-size donors to gift agreements is healthy because it gets them ready for the conversations they'll hear as they hopefully move through the pipeline."
"My donors receive clean, donor-friendly, and branded emails after phone conversations. Givzey helps me increase the quality of engagement."

"I'm so glad Givzey found a way to keep my fundraisers' relationships separate from payment reminders."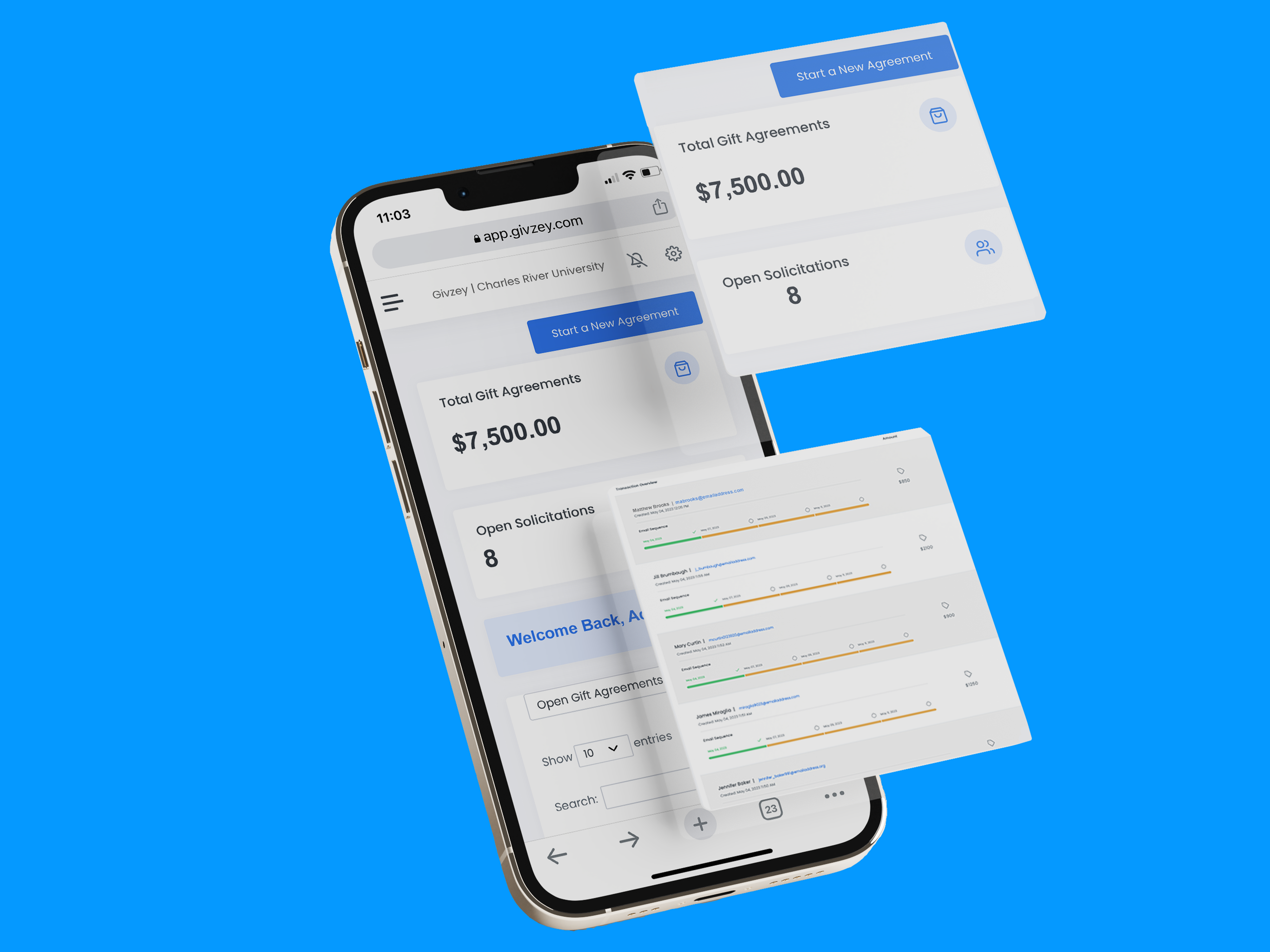 Increase Retention
Funnel all donor relationships to multi-year commitments.




Formalize and scale multi-year commitments to gifts of all sizes.




Leverage 80-90% retention rates with multi-year commitments.
Don't settle for the status quo. Retain more donors.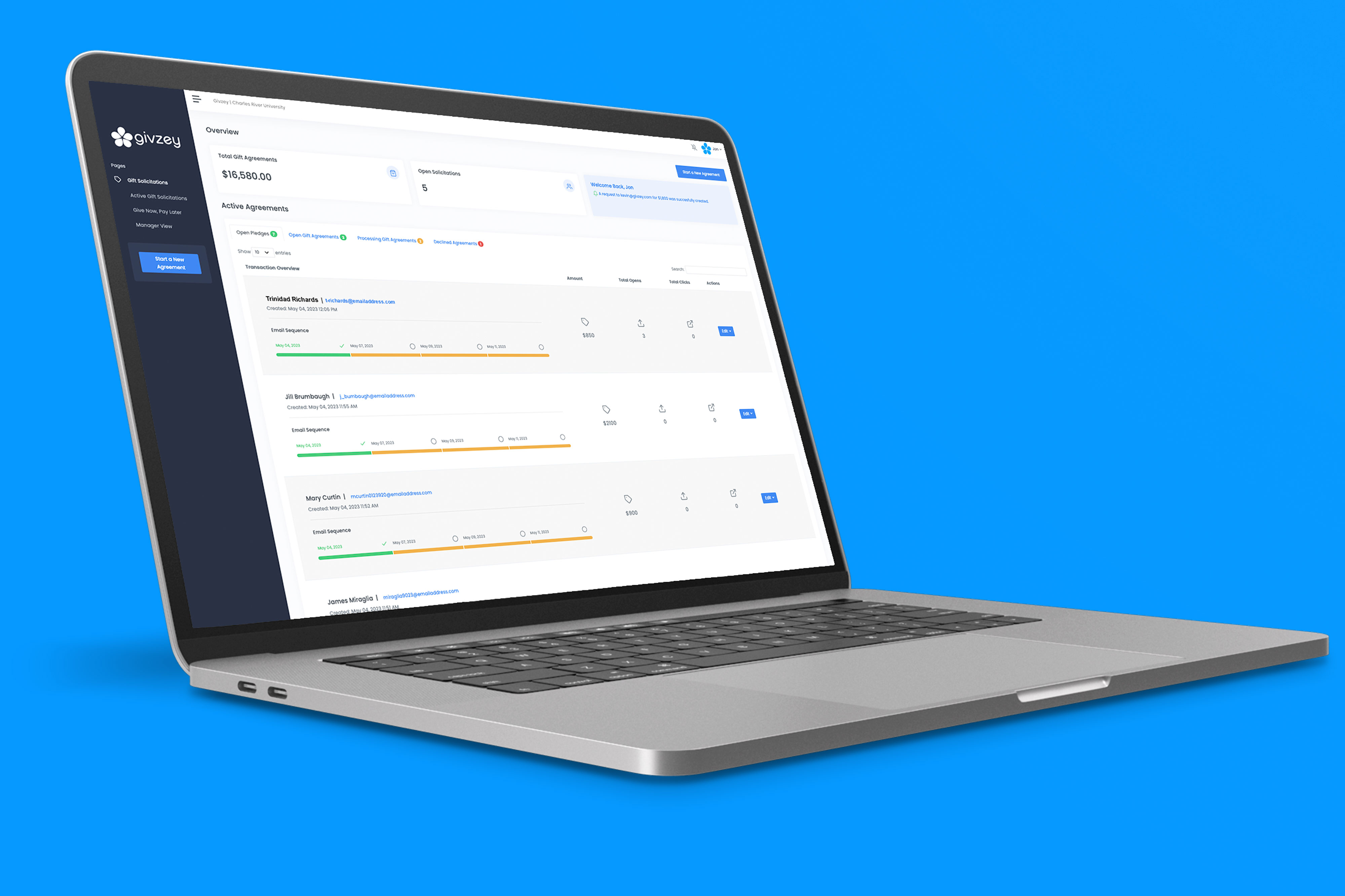 Scale Major Gift Pipeline
Develop long-lasting relationships with your donors and build toward major gifts.

Steward donors with major gift intentions in mind.

Separate annual giving from major gift conversations.
Accelerate relationships with donors and build major gift pipeline faster.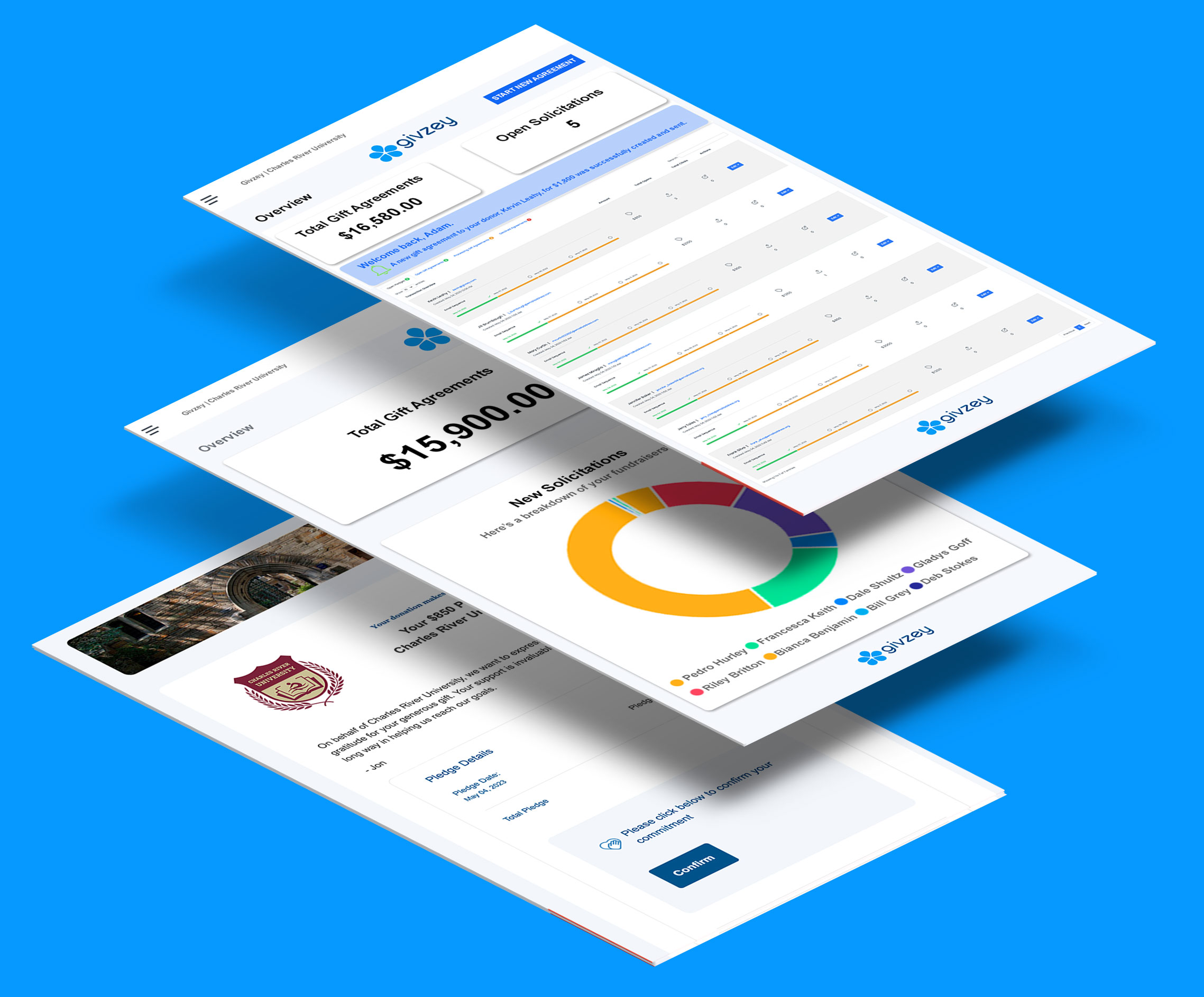 Improve Fundraiser Efficiency
Start every year ahead.

Reinvent the annual solicitation cycle.

Have more impactful conversations with donors at the appropriate time.




Documented donor intent results in a 90% close rate.
Scaling multi-year commitments changes fundraising efficiency forever.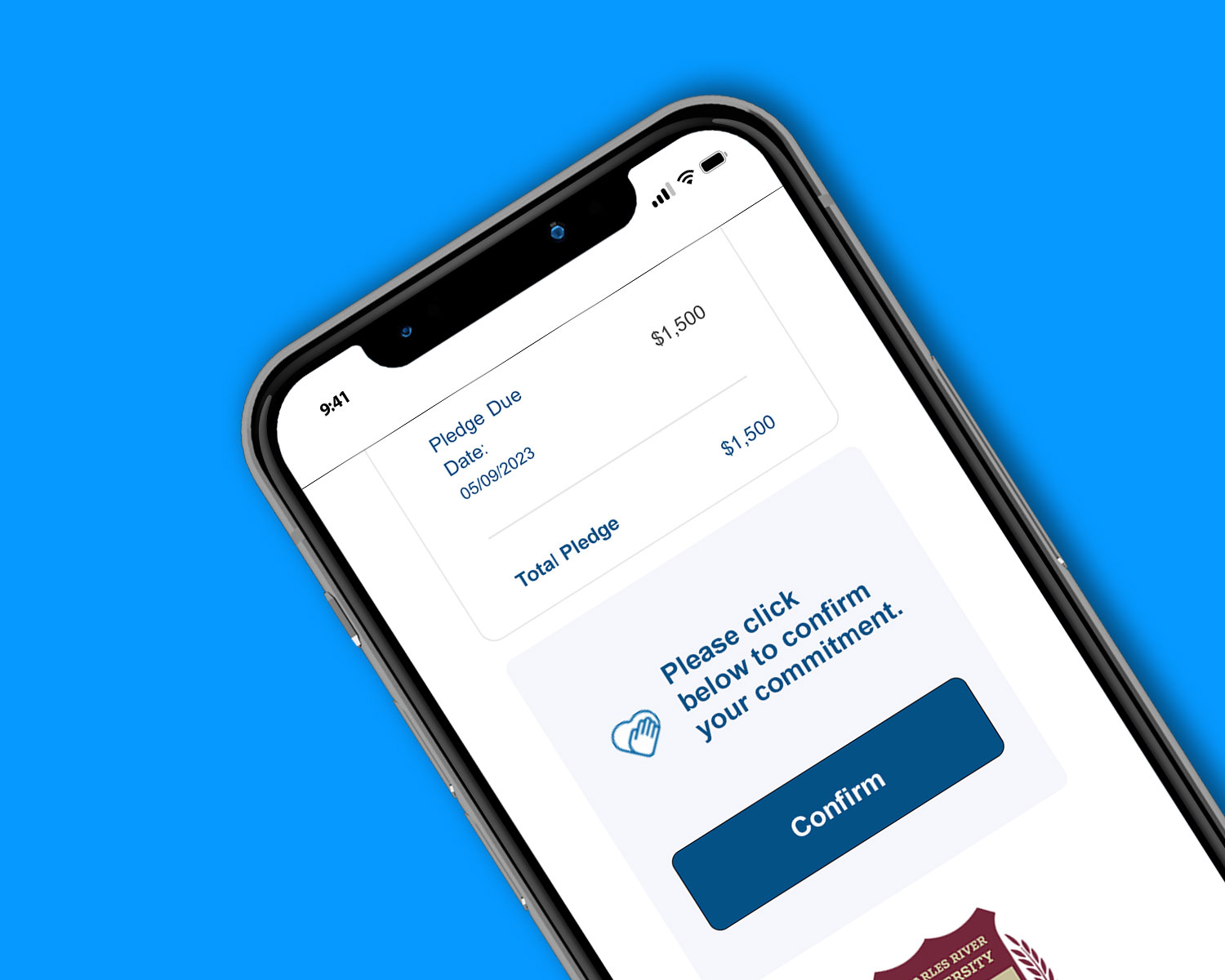 World-Class Donor Experience
Bring the major gift experience to every donor.

Deliver one-click payment options directly to a donor's inbox or via SMS text.

Turn documentation into a collaborative, in-the-moment, engagement with donors.

Automated reminders mean current donors never become lapsed donors.
Empower donors to turn giving from a process into an experience.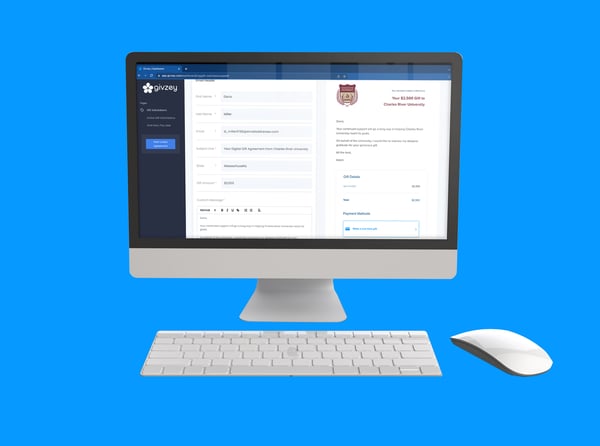 Standardized Agreements for Ease of Processing
Givzey's Digital Gift Agreements meet and exceed FASB & CASE standards.

Automated and trackable pledge reminders.

Customized fields and language to meet your organization's needs.

Givzey works as a standalone solution and has optional integration solutions, which means zero tech lift for you or anyone in your organization.
Fundraising automation that gets it right the first time, and every time.

Major Gifts
More effective conversations: spend time cultivating a major gift, not soliciting annual gifts.

Leadership & Annual Giving
3x your mid-level donor pool: scale multi-year pledges for 80-90% retention.

Board Members
Bulk-upload lists to document intent and automate collection from key stakeholders.

Giving Societies
Bulk-upload lists to document intent and automate collection from key stakeholders.

Bequests
Digitize the bequest process to ensure fast and accurate documentation.

P2P, Student, & Athletics
Empower all of your ambassadors to secure multi-year agreements.